Great stories last generations
Working together with a client to create a custom design is so rewarding. The journey is one filled with excitement and anticipation.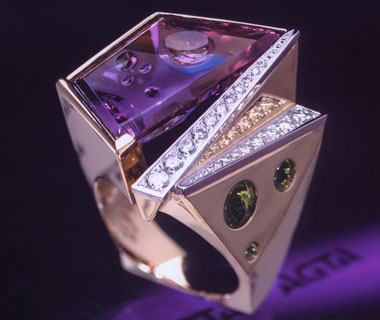 This piece was inspired by a one-of-a-kind "Concave Cut" Amethyst by Michael Dyber, who is the only American to have won the prestigious German cutting award in Idar Oberstein, Germany. We re-cut cabochon Tsavorite Garnets and flush set them upside down to compliment the "Bubble cut" in the Amethyst. The rails of pave' diamonds in platinum were to emphasize the dynamic lines of the Amethyst. I was fortunate to win my second International Spectrum Award with this piece while I was still in my Maui store.
I was deeply moved while repairing a well-loved and well-worn 1949 high school ring. The ring belongs to family friends, my parents have known since college. Now my father is in ill health and I can't repair him but I could bring the class ring back to life again. Processing these many emotions was a great reminder of how short life is, and how honored I am to be able to be a part of people's lives, helping in a small way to reinforce love and memories. Stories last generations.
Driftwood Wedding Ring
2015
I received a phone call from a couple looking to create a "driftwood" themed engagement ring. I knew right away of the challenge to come and was excited to be a part of this creative design. After several consults, the result was beyond expectations and reflected an organic softened but "weathered" driftwood. Check out some of our other wedding rings in our Gallery.
I was working at my bench when I heard "there he is". I looked up and saw a woman dragging her friend into the store and telling him "this is the guy I was telling you about from Maui". It turned out the two were going to get married the following year and were searching for a bold and important custom ring. I ended up designing an elegant setting with the focus on an eight carat fancy yellow diamond. Clearly the results were worth the wait. Years later she ended up working for me at the Crossroads store.
An old soccer teammate came to me with what looked like used to be his wife's beautiful ring. The ring was a mushed platinum ring, as many get due to the new construction techniques. It had been so worn the metal had been pushed over the small diamonds to where they couldn't be seen. We needed to not only re-make the ring in the old style of fabrication so the metal was work hardened but we also had to increase the size of her center stone, of course.
sentimental Suspension
2010
An elegant couple came into the store asking to see this "Suspension pendant". The asked if I would set her Mother's special diamond in the center instead of mine. I obliged, considering he owned nine well known jewelry stores throughout California. I took it as a compliment when he said "his jewelers didn't do work like this".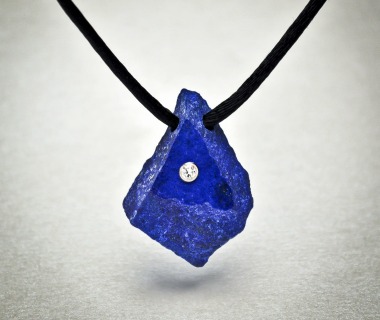 A soldier's wife asked me to create something from this rough piece of Lapis her husband brought back from a tour in Afghanistan. She wanted something to remind her of him. She shared with me, and I could tell, she was not a jewelry person and really liked the more rustic and earthy style. I sliced the front off, polished it and set a diamond, representing her husband in the center. I drilled a hole and placed a simple leather cord to make the perfect necklace for this particular client.t
Opal piece created for clients from Oahu, whose family the movie "Descendants" was made about. The color of the Opal reminded me of the waters of Hawaii and my sixteen years on Maui. Truly a story that will last generations.